Few Soho loft apartments offer their owners as much history, stunning architecture, and financial advatanges as the Gunther Building. Located on the southwest corner of 469 Broome and 55 Greene Streets, this beautiful cast-iron building is more than 135 years old. New York City records show that loft apartments here also have an address 471 Broome Street.

The ground floor is occupied by a commercial tenant (currently the luxury bath design firm, Waterworks), with another five floors of coop apartments located above.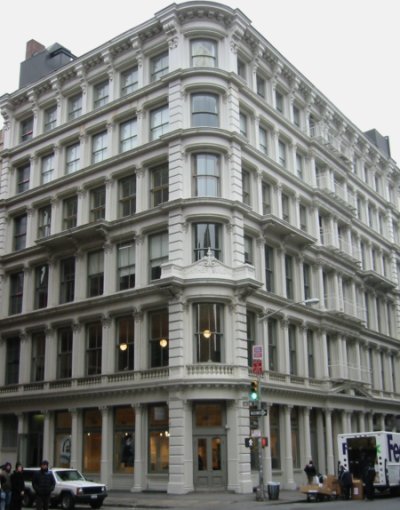 The coop has something that perhaps no other building can brag about: owners pay absolutely no monthly maintenance fees. The commercial tenant bears sole responsiblility for the coop's maintenance.

A glass elevator enhances the building's Soho style, and a video intercom system gives owners a greater sense of security. The co-op's shareholders and their guests can also a rooftop garden.



Sales History

A 5th floor loft in the Gunther Building was listed for $3,995,000, and had a sales contract pending on February 22, 2008. The listing broker was Wendy Maitland of Brown Harris Stevens.

The 4th floor coop loft sold in April 2007 for $2.5 million. According to New York City public records, the sellers were Daniel M. Wheeler, Director of Dimension Fund Advisors, Ltd. and Andrea Freisen. Wheeler is a leader in the 'fee-only' financial advisory community. The buyer was jewelry designer Basak Ozuygur.

Wheeler and Friesen bought the coop apartment in 2005 for $2.5 million from Soho artist Stephen Sollins and James Sollins, who appears to be Stephen's father. They bought the 55 Greene Street loft in 1998.

Other loft owners include archtect Beyhan Karahan who is on the 3rd floor, according to New York City records. She bought a loft in 1994 with Jon Michael Schwarting, also an architect. Karahan's firm restored the building's cast-iron facade in a six-year project from 1996 - 2001 for the Gunther Building 1873 Cooperative. The restoration earned an award from the Preservation League of New York. According the organization the "award recognizes the historic importance of this building as one of the most significant examples of cast iron architecture in SoHo, and the outstanding attention to detail that has set an example for the continuing restoration of the entire SoHo Cast-Iron Historic District."

Before moving to other palacial quarters, Lenny Kravitz owned a Gunther Building loft that he and then-wife Lisa Bonet bought in 1989.


History of the Gunther Building

Designed in 1871 by Griffin Thomas, an architect for many of Soho's historic cast-iron buildings, it was originally created as a warehouse for New York furrier William Gunther. The cooperative apartments here are part of the Gunther Building 1873 Corp.

The original store, C.C. Gunther's Sons, was opened in1820 by a German immigrant who had a business association with John Jacob Astor, a fur trader.

According to a 1959 article in Time magazine, Gunther's "operated the only men's fur department in Manhattan, offering coats made of every kind of fur, from buffalo, favored by post-Civil War tycoons, to collegiate raccoon."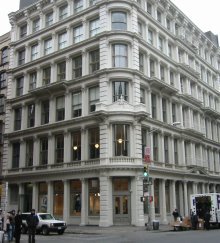 The Gunther Building's spacious cast-iron lofts were designed in 1871 and built by Griffith Thomas.